StoryTime Returns
October 16, 11 am
StoryTime returns with a program featuring apples on Wednesday, October 16, 2019 beginning at 11 am. StoryTime is desinged for toddlers and preschoolers. Library policy says that children under six years of age must the accompanied by a responsible guardian at the library or at library programs.
StoryTime will feature a new face this fall, new Youth Services Coordinator Dixie Andres. Dixie is no stranger to Blissfield, as a long-time resident, performer (notably as Fiddlin' Dixie and Li'l Friends), and one of the masterminds behind Blissfield Bluegrass on the River. SltoryTime will continue each Wednesday in the fall through November 20 at 11 am, returning for a single December event on December 12.
Fall Programs
in brief
In additon to StoryTime's return, the libray plans other programs in October, November and early December:
October 24, 6:30 pm, Black & White Night. Join Artist Peg Whiting as Team Silhoutte creates a couple of spooky murals for the library wall during Halloween season. October 31, 5:30-7 p[m, Halloween Hot Chocolate at the Library. Stop by the library during trick or treating for some hot chocolate. Then, get back to the library by 7 pm to leave wih the parade to the bonfire at Ellis Park.
November 5, 3:45 pm, Diary of a Wimpy Kid: Wrecking Ball Release Party. Wimpy games, Wimpy Snacks, Wimpy prizes including copies of the new book! November 9, 11 am - 4 pm, Fall Book Sale. Fill a Borchardts' bag for $2 all day! November 9, 1 - 4 pm, Make & Take a Yuletide Ornament. Make a lovely ornament to hang from your tree. November 16, 10 am, Taste the State: Coffee & Pie. Featuring the coffees of Steam Inn Coffee Room and the pies of Peg's Pies. Both Lindsey Forche and Peg Whiting will be on hand at the event. Taste the State is sponsored by Chris Mallow, DDS and Blissfield Insurance Agency. Please register for Coffee & Pie before November 11. Space is limited.
December 4, 3:45 - 5 pm, Decor-EAT a Holiday Cookie. Make & Take a delciious cookie baked by Peg Whiting (is there anything she can't do?). Please register by December 2 so we can make sure to have enough cookies
Keeping Up with the Library!
Don't be disappointed that you missed a new library program or the launch of a new service. Stay in the know. The best way to keep up with all the goings-on at the library is by following us on Facebook. We're also on Twitter and Instagram, have a weekly column in the Advance, and our programs are included in the Blissfield Report at 12:30 pm every Friday on WLEN. Of course, you can always call the library at 517-486-2858 or email info@blissfieldlibrary.org with any questions.
Did You Know...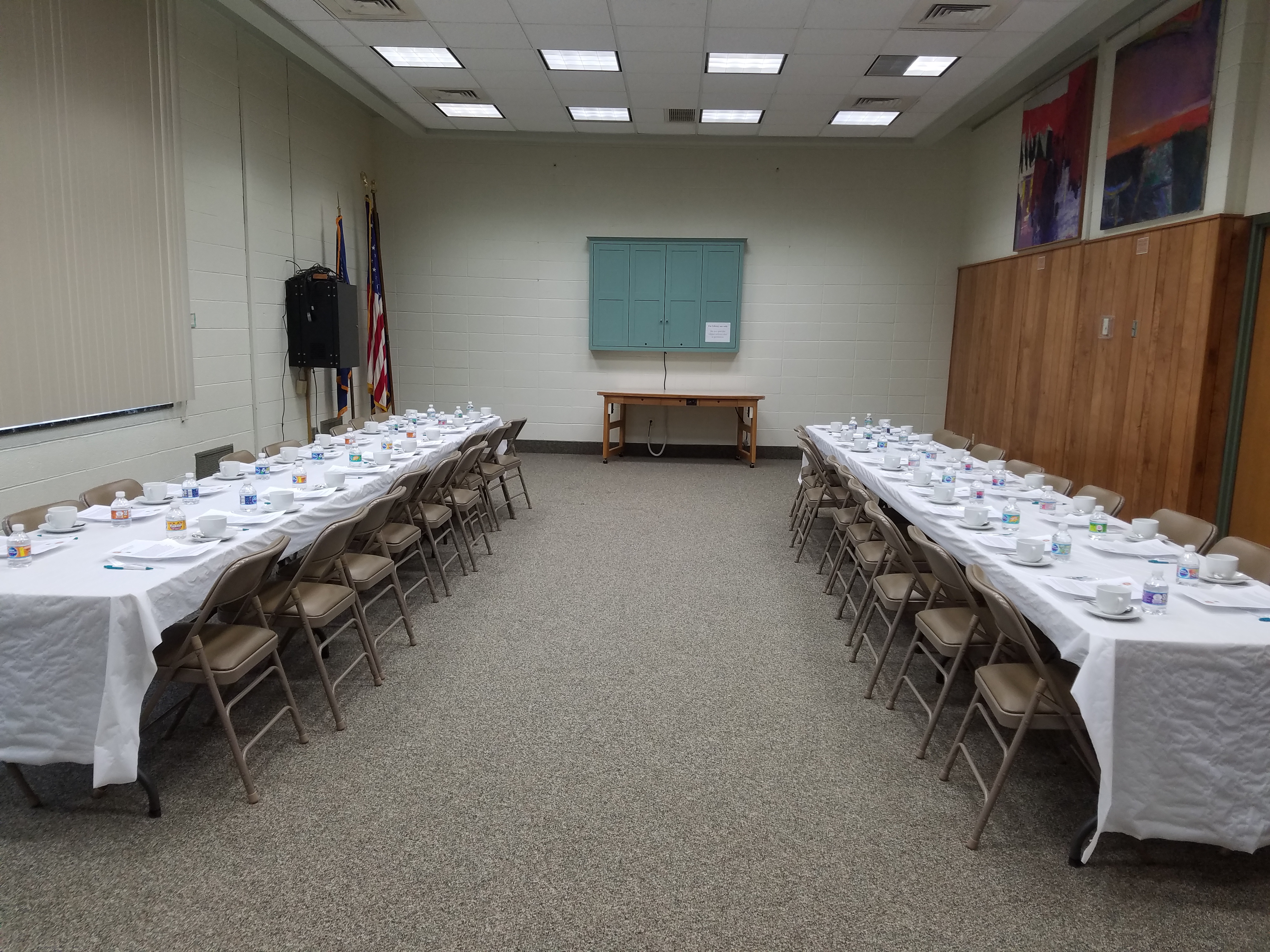 ...that the Library's auditorium is available to rent? It's true. Auditorium rental includes seating for 80, dining and buffet tables, a kitchen, and use of the library's public restrooms. You can even rent it when the library isn't open. The space is great for celebrations of all types: birthdays, graduations, baby showers, and other gatherings. Businesses can rent the space for meetings, trainng sessions, and other activities that do not include selling products or services. Rental fees begin at $75 for up to five hours if the contract is signed by a resident of the library service area and $100 if outside the service area. Call the library at 517-486-2858 to reserve the space or with any questions.
Meet Our Guests
The library welcomes the puppet artistry of Peg Whiting for display in the library's main reading room. The Beholder and Five dragon puppets are from the recent Adrian College production of She KIlls Monsters, directed for the stage by Chloe Whiting Stevenson. We don't know how long we can keep them, so make sure to stop by soon to take a look.