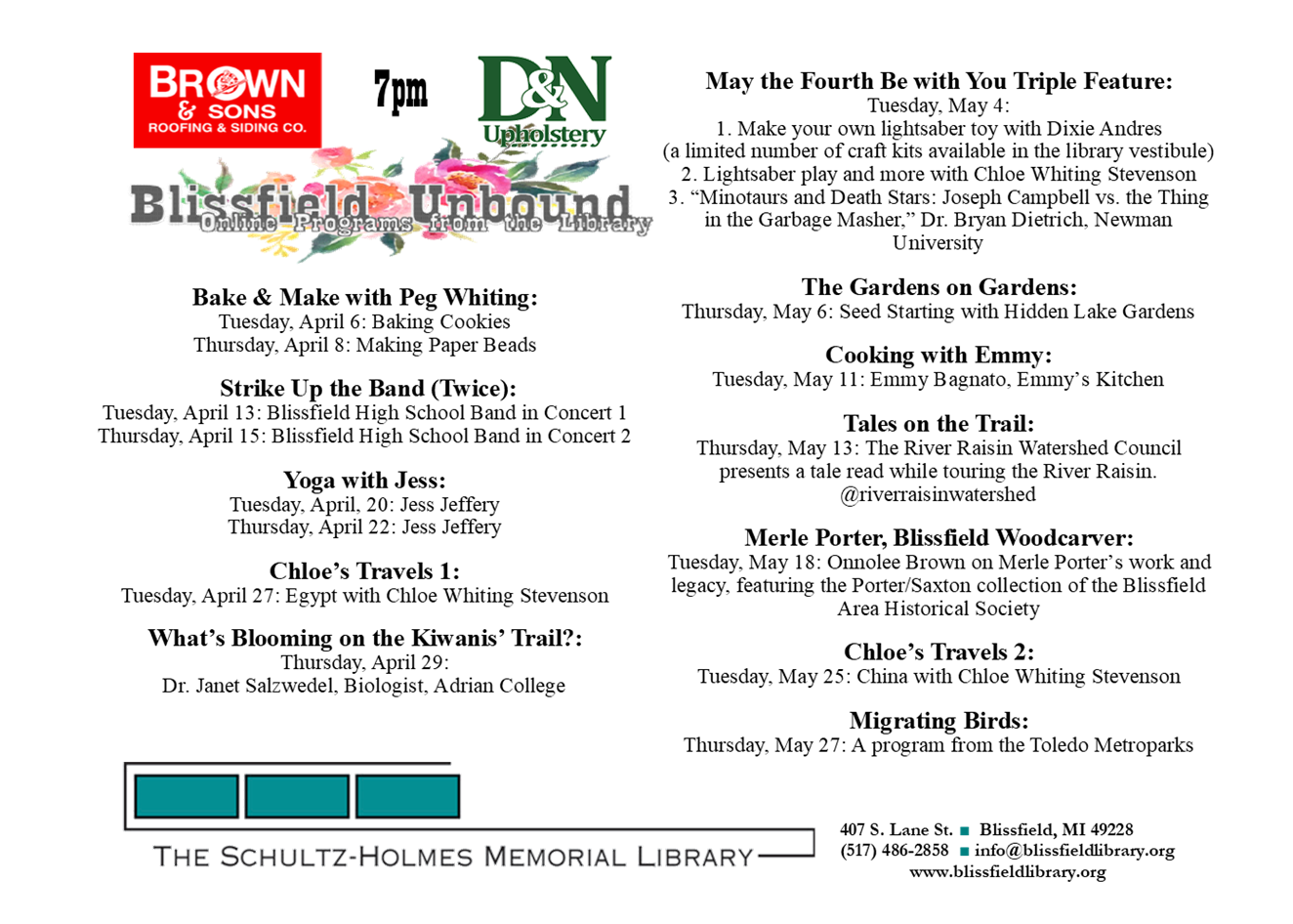 Library Building in Modified Phase 1: Vestibule Service and Family-Friendly Appointments
Online programming, content, and access continue.
The Schultz-Holmes Memorial Library in Blissfield will remain in a modified Phase I in its reopening plan i but with modifications to allow patron group access to borrowing, public computers, and copy/print/fax services. Our phased reopening is designed to keep borrowing and computer access available to patrons while keeping staff and patrons safer. In Phase I, the library building, other than the vestibule, was closed to the public. In this interim modified Phase 1, we encourage patrons to continue to use vestibule service when possible, but patrons also may make family-friendly, 30-minute appointments to visit the library alone, in groups from the same household or as individuals with caregivers for borrowing, computer access, and copy/print/fax services. Staff will remain available by telephone and email during the library's regular hours.
Patrons may place holds on physical materials online using the library's catalog, by email to info@blissfieldlibrary.org, or by telephone at 517-486-2858. The items will be checked out to the requesting patron and placed in the library vestibule for a 24-hour window to be picked up during the library's regular hours.
While we are excited to welcome more patrons back into the building, we will ask that you continue to follow a few required and necessary safety protocols so that we may offer services safely for both patrons and staff. These considerations will allow us to move unimpeded toward more regular library usage that requires no appointment:
1. Family-friendly appointments are available for inidiviuals, groups from the same household, and individuals with caregivers.
2. You must wear a face mask covering your nose and mouth for the entire time you are in the building.
3. Please do not come to the library if you have had a fever or any symptoms of Covid-19 within 24 hours of your scheduled appointments.
4. To allow for cleaning and disinfecting between patrons, appointments have a strict 30-minute time limit. You must leave the building by the end of your scheduled appointment, regardless of when you arrived, so that we may allow the next appointment to begin.
Please call the library at 486-2858 to schedule an appointment.
Regardless of how you borrow, the current limit of five items per patron continues to apply. The library's online services, including new account applications, and online programming, including Blissfield Unbound and StoryTime, remain available, as always, on the library website, blissfieldlibrary.org, and Facebook page, The Schultz-Holmes Memorial Library.
Please return all items to the book drop NOT the vestibule or front desk. All returned items are quarantined for four days, so we try to keep returning items separate from items going out. While fines remain suspended for the time being, we encourage you to return items promptly so that other patrons may have access to them after the items have completed quarantine.
The library continues to base its policies on recommendations from doctors, including the state and county health departments and the CDC, as well as--but not limited to--the adherence to any government guidelines. As the library serves a high-risk population, patrons may expect the library's policies to respond to its own particular situation. We ask for your cooperation as this moment is new to all of us.
The online library at blissfieldlibrary.org offers an impressive collection of downloadable media: books, audiobooks, local and international newspapers, magazines, movies, television, and music. Study a foreign language, research your family tree, or find your high school yearbook. You can also apply for a library account from the website.
Our online programming includes some great opportunities, including Blissfield Unbound programming for adults and families featuring local experts and performers; StoryTime, Take & Make Crafts, and monthly reading challenges for the kids, as well as the return of Taste the State in hybrid format.
Register for new library cards online. The button is at the top of your screen. You will be able to use online services as soon as we process the account, even before you get the card or even if you never get a card. Non-residents pay a non-resident fee: $15 for three months or $50 for a full year. You may pay the non-resident fee by credit card online at blissfieldlibrary.org under the "About SHML" tab.
Free with your library card or new UN-CARD:
Find new content at the Media on Demand tab from RBDigital and Kanopy, along with all the existing content from Woodlands Downloadable Library (OverDrive/Libby), Freegal music, and Hoopla. At the Reference/Instruction tab, find links to local, national, and international newspapers at Access World News, learn a foreign language at Mango Languages, and research your family tree at America's Genealogy Bank.
Find streaming programming including StoryTime, featuring our own Dixie Andres, Blissfield Unbound: Online Programs from the Library, sponsored by Brown & Son's Roofing & Siding and D&N Upholstery, and Taste the State, sponsored by Chris Mallow, DDS, and Blissfield Insurance Agency, which will feature hybrid events with an online program coupled with actual tasting samples that will be picked up from local businesses. Search @blisslibrary on Facebook. A program schedule is available on the Facebook page and in the Blissfield Advance.
The library public wifi network, shmlguest, is available outside the library. The name of the network and its password are the same. A grant-funded project to extend the range of our public wifi is under construction.
Contact the library at info@blissfieldlibrary.org, by calling 517-486-2858, or by leaving a message or post on our Facebook page.
Re-opening history:
June 8, 2020: Entered Phase One
June 17, 2020: Entered Phase Two
November 14, 2020: Re-entered Phase One
January 25, 2021: Entered Modified Phase One, allowing individual appointments for in-library patron access.
May 3, 2021: Entered Modified Phase One, allowing individuals, household-groups and persons with caregivers.
Library programs, projects, and possibilities!
Did you know?
The password you set up when you got your library card is what you use to access online services when the service asks for a PIN. We can reset your PIN to the default if you've forgotten it. We cannot retrieve your password. Sometimes, depending on the service, it's a two-step process. Step One: you will use your library card number (the barcode on the back) and possibly your PIN (password) to unlock access to registration for the service. Then, Step Two, you sign up for the service with a login or username (often an email) and a password you create. If you have any questions, have forgotten your password, or are getting messages about access denial, send an email to info@blissfieldlibrary.org. Or message us on FB or call 517-486-2858 and leave a message.